THE BEST BEACHES NEAR SAN FELICE, ON LAKE GARDA
Published 19 Mar 2021
The Western shore of Lake Garda is characterized by many small bays, villages overlooking the water, lakeside promenades and many, very different beaches for those who want to swim and have fun during hot summer days.
From our starting point, San Felice del Benaco, there are several beaches that can be reached on foot or by bicycle in just a few minutes.
Here is some advice for you to find the beach that best suits your needs.
Beaches in San Felice del Benaco
La Baia del Vento
Situated between Punta del Corno and Punta San Fermo, it is historically one of the most popular and best-equipped beaches on Lake Garda.
Surrounded by green olive trees, it offers a wide view over the three shores of the lake.
It is a fine gravel beach with some sandy areas, very popular in summer among young people and surfers.
Baia del Vento offers a wide range of facilities, including canoes rental, sup and pedal boats, sun loungers, and a restaurant by the lake.
Our advice is to rent a canoe and explore the beautiful Isola del Garda (Island of Garda), just a few hundred meters from the beach.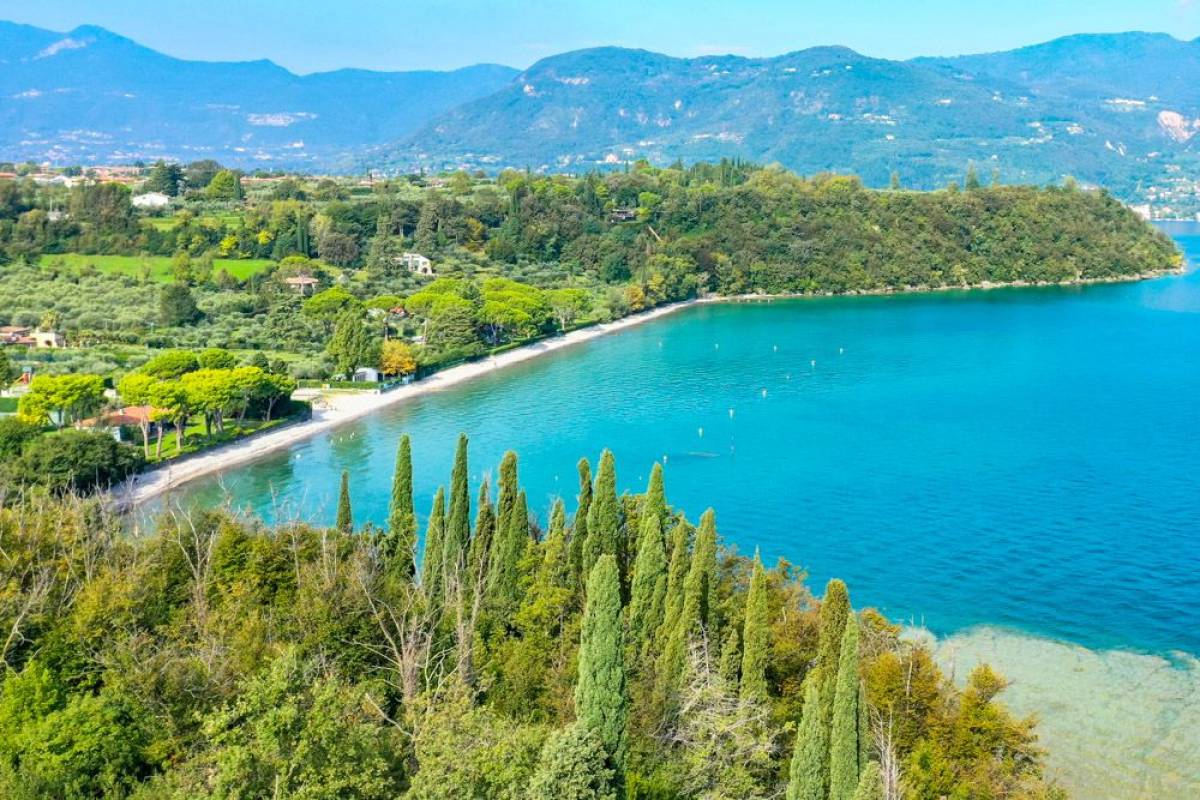 Beaches of Porto San Felice and Gardiola
The first, hundreds of meters long, is great for a stroll alongside the lake. You can hire sunbeds and pedalos, and have an ice-cream at the bar on the harbour, perfect for families.
If you continue the walk, you'll reach Gardiola beach (next to the campsite bearing the same name), which is small and surrounded by rich vegetation.
From here, our advice is to go for a nice walk or cycle with the whole family, until you reach Baia del Vento beach, or get lost among the olive trees of San Felice, for an afternoon of silence and contact with nature.
Porto Portese beach
Between the towns of Salò and San Felice you will find Porto Portese, with its wide panoramic beach and restaurants overlooking the water.
Easy to reach and with its own parking spaces, it is less crowded than other beaches during the summer.
In high season, tourist ferries depart from the port to discover the island and villages of the lake.
Beaches in Salò
Mulino and Delle Rive beaches
Just a short walk from the centre of Salò there is this beautiful gravel area equipped with sunbeds and kiosks where you can relax and enjoy a drink under the sun.
Very popular during Summer among tourists and locals, it offers evenings of music and theme parties. From here there is a lovely view of the evenings in Salò, thanks to its illuminated lakefront.
Just a few metres further on is Delle Rive beach, which is free and close to the town. It is a great place for those who want to alternate sunbathing with a stroll in the town centre.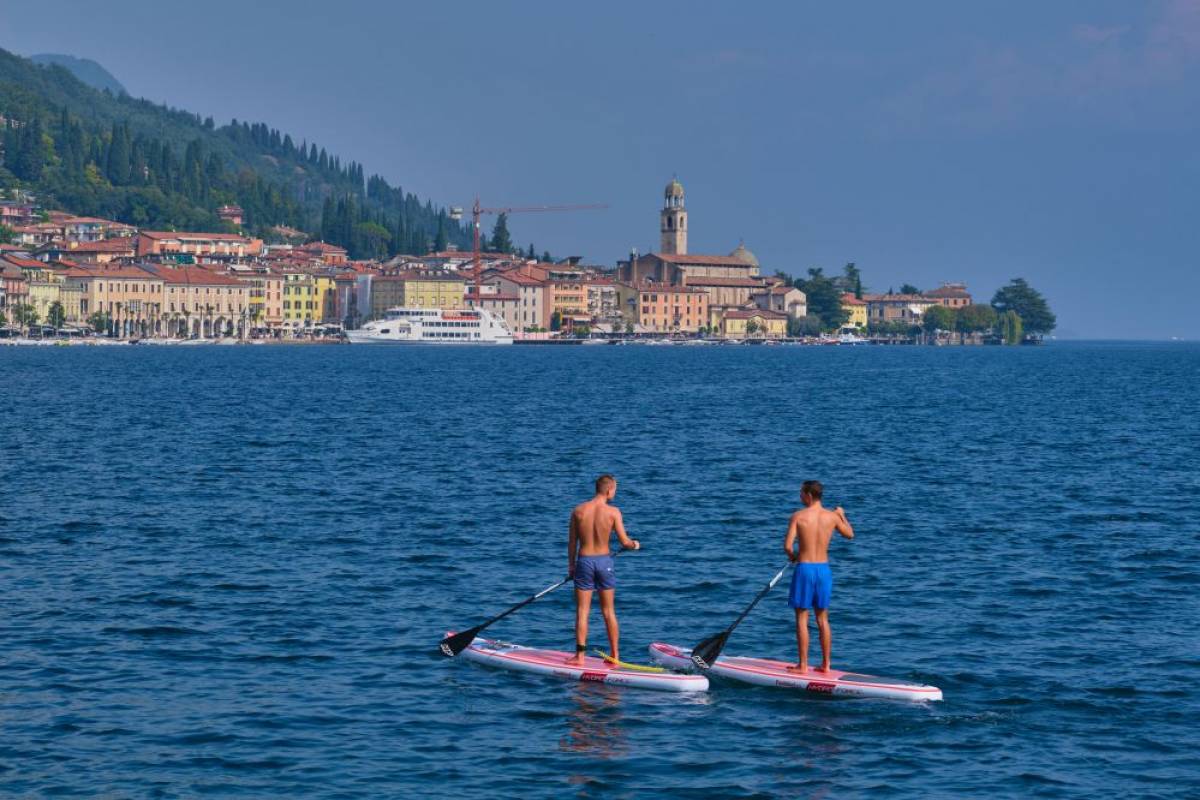 Beaches of Manerba
La Romantica
A 2 km long beach, and followed by the smaller Sasso inlet, La Romantica is the largest and most popular in the area and owes its name to the picturesque panorama it offers.
Equipped with all kinds of comfort and entertainment, it is ideal for families with children and accessible with dogs.
A pleasant walk of about 25 minutes takes you to Rocca di Manerba.
Along the way, there are plenty of bars (Nasimi is our favourite) and traditional restaurants such as Da Rino.
At Porto Torchio it is possible, when the tide of the lake is rather low, to walk to the beautiful Isola dei Conigli (Rabbits Island). Alternatively, there is a boat service that accompanies tourists on payment.
Baia Bianca
Characterized by extremely clear Caribbean sands, this is a private beach with free access, well known for its liveliness, especially in the evenings.
It offers all kinds of facilities and is the perfect choice for those who want to enjoy the Caribbean rhythms of the disco (bearing the same name) during the Summer season, after a day in the sun.
Beach of Pisenze
Our favourite. Part of Rocca Natural Reserve, it is, without doubt, one of the most unspoilt areas of our lake. It is characterized by abundant vegetation and, to its south, is bordered by the wooded slopes of Punta Sasso.
There are a sup rental service and a good restaurant with a panoramic view just a few metres from the beach.
From here, you can take the path that brings you into Rocca Natural Park, where you can enjoy the beautiful landscape and the transparent waters of Lake Garda.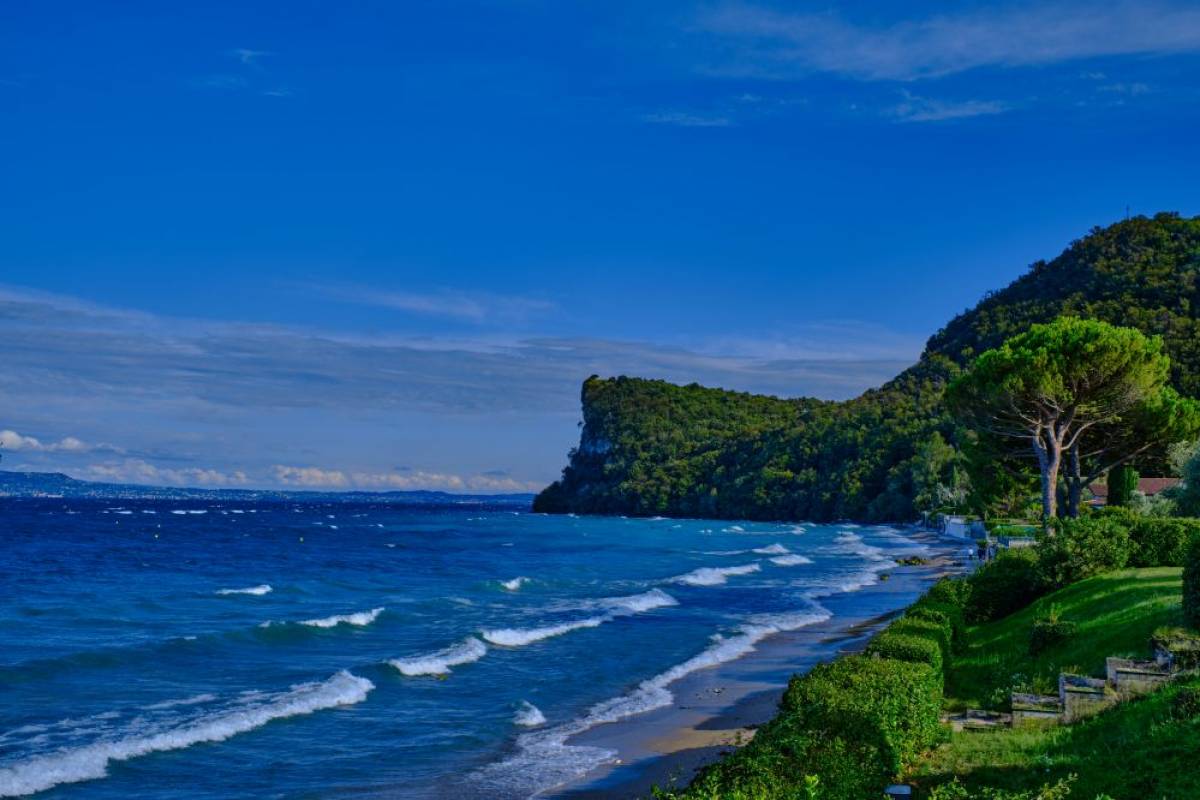 Dusano beach
Going south from the beach of Pisenze and following the paths of the Rocca, in about an hour you can reach the Port of Dusano, a hamlet of Manerba, with its small beach surrounded by wild nature and with bars and restaurants just a few meters away.
Port of Moniga beach
About one kilometer from the town of Moniga is this pebble beach with free access and equipped with every comfort: sunbed hire, showers, restaurants and bars, boat hire, and everything you need to spend a fun day enjoying the sun.
It is the departure point for Navigarda ferries and from the beach, you can walk to several quiet coves hidden among the reeds.
The most beautiful beach
Jamaica beach
Although not very close to San Felice, it is a must for all those who love the sparkling blue waters of our lake. Located in Sirmione, about 45 minutes by car from our starting point, it is one of the most popular spots in the area.
Leave your car in one of the parking spaces, adjacent to the center of Sirmione, and take the chance to walk through this wonderful little town and reach the beach following a panoramic path surrounded by a wood of oleanders and maritime pines, with a view over the famous Grotte di Catullo.
Reaching the beach is not easy and sandals or flip-flops are recommended for some of the spots submerged in water, but the effort is worth it for the beauty of the final destination.
Jamaica beach is in fact known for the smooth stones that emerge from the lake, creating a play of nuances in the water similar to those of the Caribbean, from which the place takes its name.
It is a very beautiful beach, even if it is quite crowded in summer, thanks also to the adjacent lido equipped with bar kiosks, sunbed rental, and toilets for guests.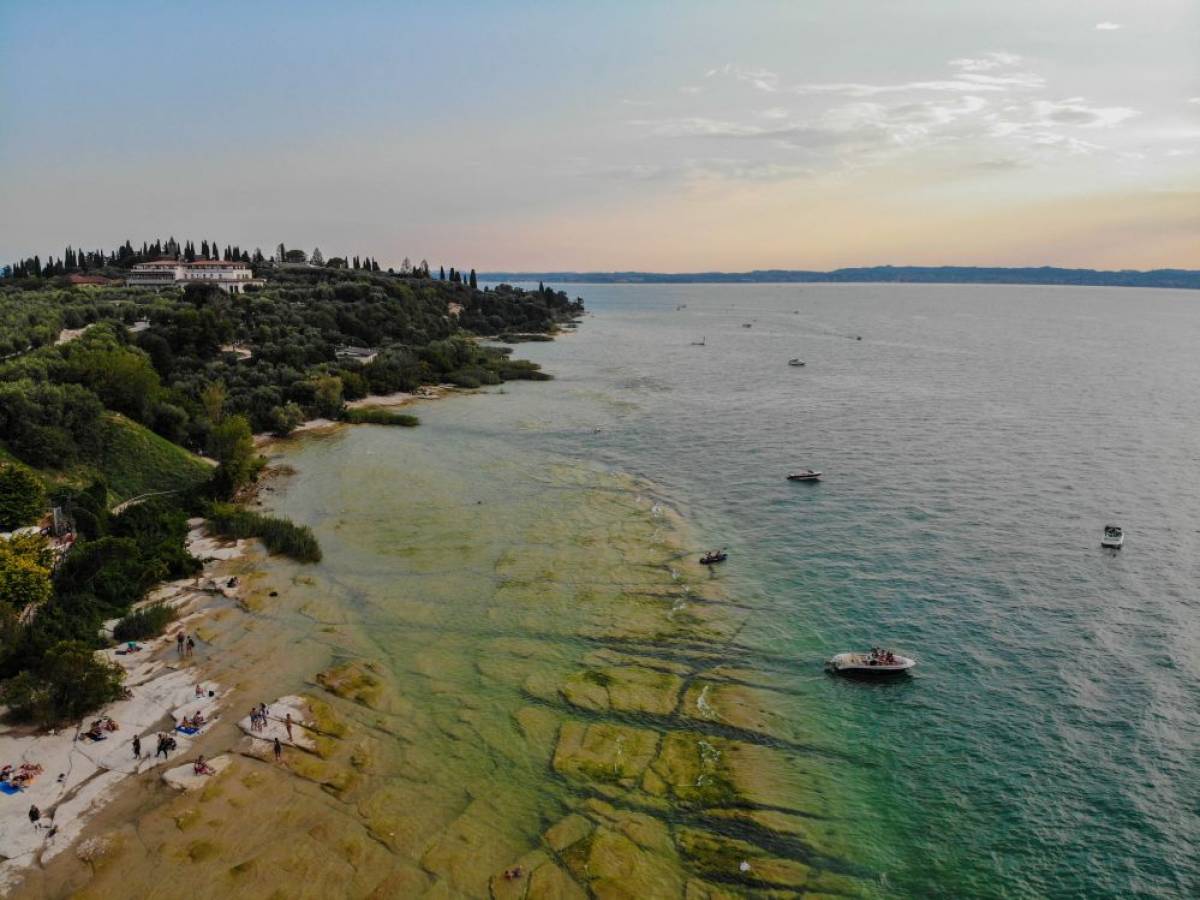 We will continue to reveal our tips to enjoy the waters of our lake, stay tuned!