LAKE GARDA AT SLOW RHYTHM: THE MOST BEAUTIFUL WALKS ON BRESCIA SHORE
Published 12 Mar 2021
On holiday, the first wish is to escape from everyday life!
Sometimes breaking the mould can also be the right chance to get into a few more healthy habits, and, perhaps, to bring them home at the end of the holiday.
Enjoying a different way of spending time and trying to slow down your daily routine is certainly a good start to a relaxing holiday experience.
Well-being in a walk
One of the best tips for recharging your body and mind, and enjoying your leisure time to the utmost, is to get into the habit of doing some physical activity every day.
One of the most recommended good practices that can be adopted in everyday life is certainly walking: getting used to walking wherever possible, walking to work, planning walking tours in your free time, getting lost in the discovery of new paths.
These are all activities that, if done conscientiously and regularly, can ensure our physical well-being and direct our minds towards a better balance.
Just 30 minutes of walking a day is enough to improve the quality of our lives, and now that we are on holiday we have no more excuses not to dedicate ourselves to our well-being.
Having said that, we have good news for you: Lake Garda is, due to its conformation, one of the most fascinating destinations for those who choose to keep fit even on holiday!
Slow rhythm experience
Discovering a place by walking also means enjoying a special experience of contact with the landscape, its climate, its smells and sounds. Moving around on foot allows us to explore the place with all our senses and to grasp every single detail and change in the route.
From walks along lake shores, to paths in the morenic hills, through itineraries linking castled and picturesque villages, up to the most challenging walks on the surrounding mountains, our lake truly offers solutions and itineraries for all legs and all tastes.
The richness of nature and the characteristic mild climate during all seasons make this area a very popular destination for generations of sportsmen and women, but today more than ever the offer is very wide and dedicated also to those who, with less ambition, simply want to enjoy an afternoon walking to discover this incredibly varied territory.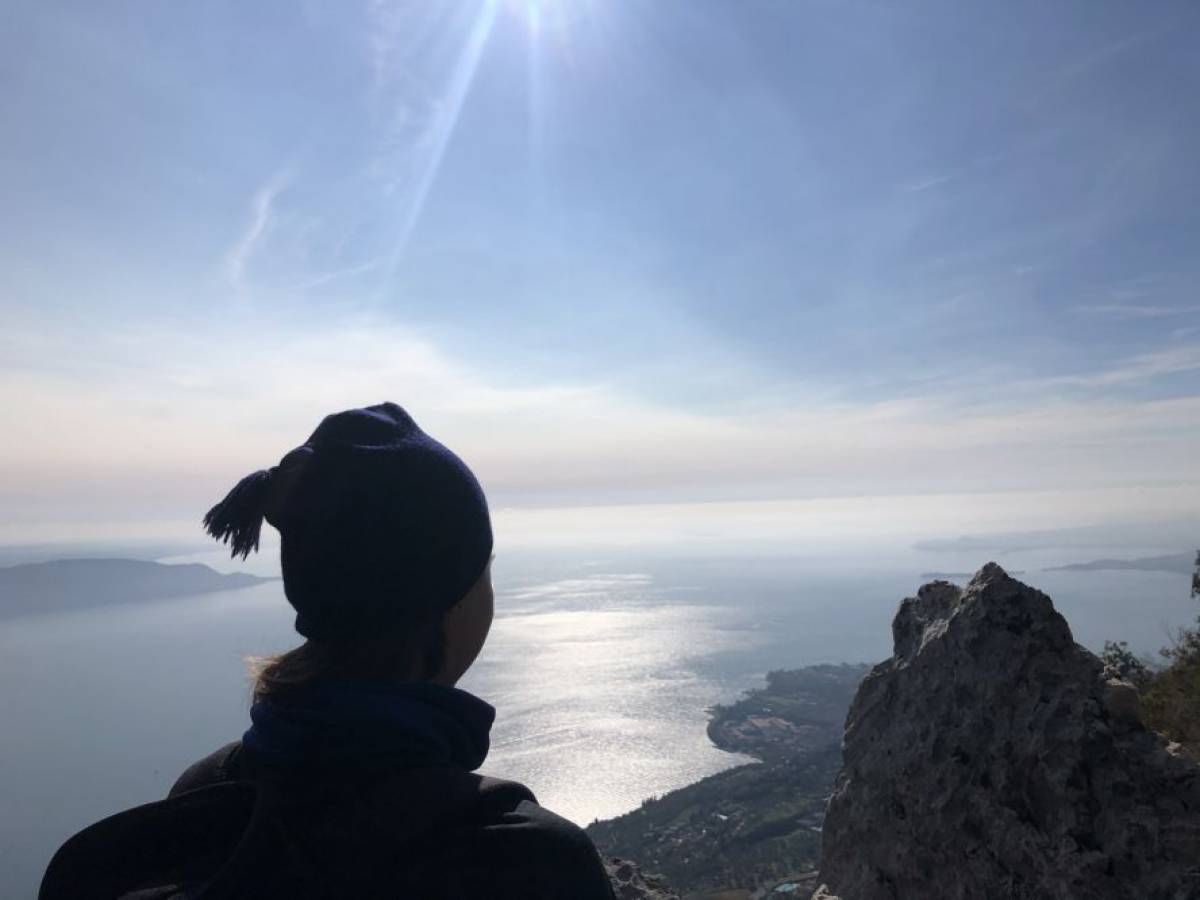 Walking paths through villages and nature
Here we suggest to you some of our favourite family-friendly itineraries that will bring you to some of the prettiest villages on our Lake, through paths surrounded by nature.
A few rules that apply to everyone: avoid long walks in the hottest hours, don't forget a fresh water bottle to refill at fountains along the routes, good sun protection, and comfortable shoes that are appropriate for the route you choose.
Always carry a bag for the rubbish you produce and be careful to respect every part of nature, it will give you back a spectacle of rare beauty.
Itinerary across the morenic hills of Valtenesi
This is a simple and family-friendly route, to discover the paths through the vineyards and the historical villages of this area.
The starting point is the Castle of Padenghe, a village perfectly maintained in its original form and characterised by cobbled river alleys, to follow trail 801b which goes to the small village of Drugolo, surrounded by olive groves and vineyards typical of this area, and then reach the pretty Pieve di Sant'Emiliano, a lovely stone building in Romanesque style. From here we continue through the woods until we find the ex-Cappuccini Convent and the Drugolo Fortress, a fascinating building with Ghibelline battlements.
Continuing along a mule track which crosses woods and vineyards, we reach the locality of Arzaga until we arrive at the end of the itinerary in the traditional village of Polpenazze.
Duration: 3 hours
Discovering Gargnano lemon groves
A little treasure of Lake Garda, Gargnano is known for the elegance of its streets, the romantic harbour overlooking the crystal-clear waters, and for the traces of the first lemon groves ever built.
This itinerary brings us on a fascinating discovery of this charming architecture, built by Franciscan monks in the 13th century, which strongly characterises and identifies the landscape of this part of the lake.
Starting from the Limonaia La Malora (lemon grove), the route continues along the pretty Port of Gargnano, small churches and buildings of great historical value, such as Villa Feltrinelli.
The route touches on various points of interest but above all reveals the charm and history of these elegant villages framed by flourishing green vegetation in all seasons.
Duration: 2 hours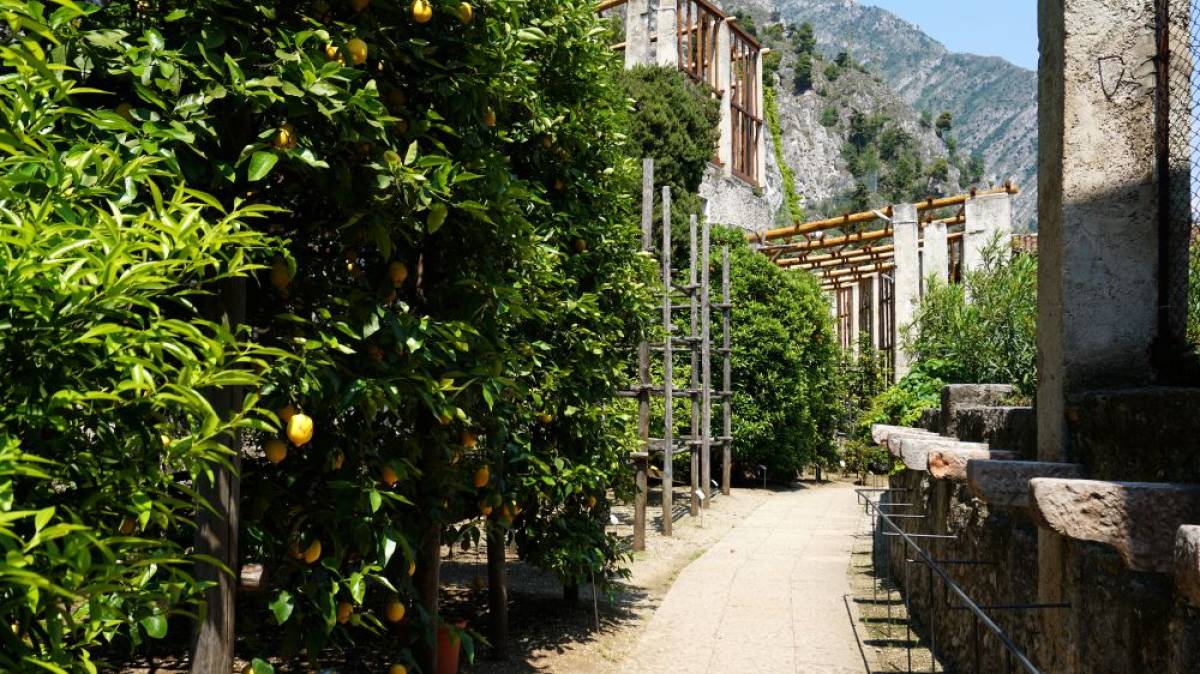 Basso Garda path
We drive to the village of Tremosine, known for its incomparable beauty, the unique views it offers, and its ancient Forra road, known as the most evocative in the world and even visited by James Bond in the past.
From here we take path no. 267, one of the stops on the Basso Garda itinerary, and explore the surrounding villages and hills. We walk as we reach Bocchetta di Nevese, Sompriezzo, known for its beautiful fountain, Musio and finally Priezzo.
The route is suitable for everyone and perfect for those looking for an afternoon in the silence of nature.
Duration: 2 hours
These and many other ways to discover the richness of our territory, enjoying the beauty of the landscape step by step.