Staanplaatsen "A"
Gelegen op de diverse delen van de camping, bieden u optimale service, en zijn geschikt voor degene die willen genieten van de rust en de omliggende natuur, en voor degene die hun vakantie sportief door willen brengen in de omgeving rondom het zwembad, in de speeltuin, de miniclub en bij het animatie-team. Alle staanplaatsen zijn voorzien van electra, water en individuele afvoer.
Wat is inbegrepen
Elektriciteit
Drinkwater
Parkeerplaats op het veld
Animatie het hele seizoen
wat is niet inbegrepen
Industrieel stekker/contactdoos CEE
Drinkwatertoevoerleiding
Waterafvoerbuis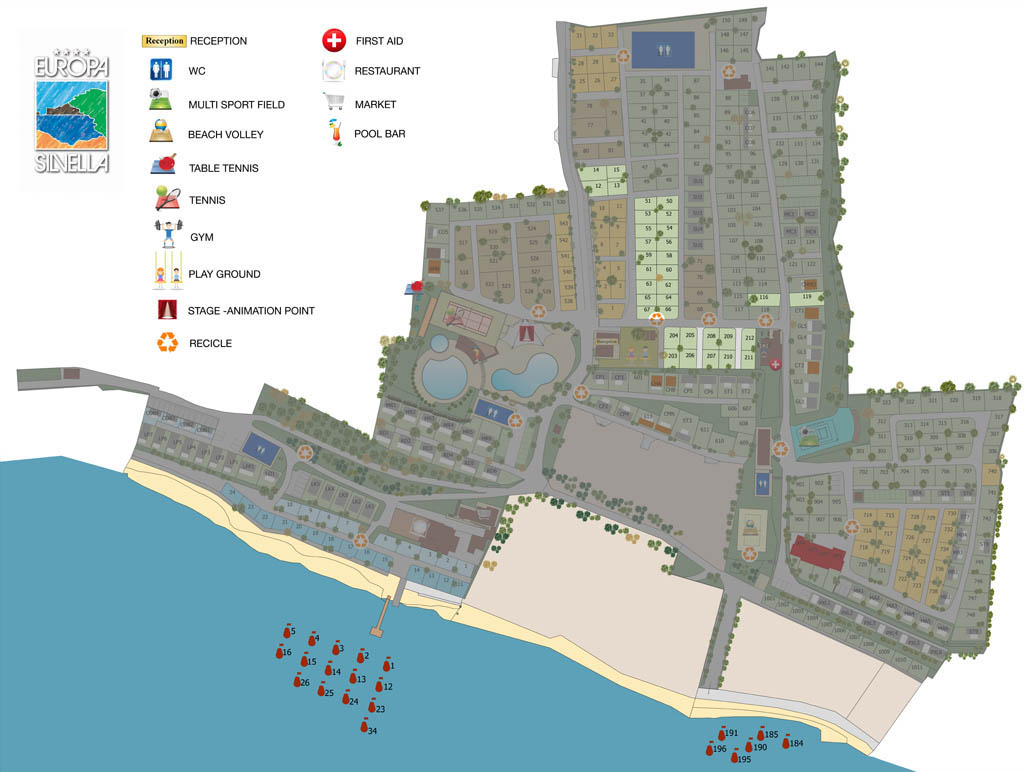 Pitch
A
B
C
D
E
F
14/04 - 04/06
10/09 - 10/10
04/06 - 02/07
03/09 - 10/09
02/07 - 09/07
09/07 - 16/07
16/07 - 20/08
20/08 - 03/09
Adult (from 10)
Senior (from 65)
Children (3-9 year)
Children (0-2 year)
Staanplaatsen "A"
Supplementen
Extra A
Extra B
Extra C
Extra D
Extra E
Extra F
14/04 - 04/06
10/09 - 10/10
04/06 - 02/07
03/09 - 10/09
02/07 - 09/07
09/07 - 16/07
16/07 - 20/08
20/08 - 03/09
Visitor (from 6)
Dog (Camping spots)
Buoy
2nd car
Dog (Village)
CANCELLATION POLICIES
In case of cancellation of the stay, the deposit will be returned:
FOR STAYS IN THE PERIOD 23/05/2023 - 17/09/2023:
100% if the written communication reaches the campsite at least 14 days before the arrival date
FOR STAYS IN THE PERIODS 30/03/2023 - 22/05/2023 AND 18/09/2023 - 09/10/2023:
100% if written notification reaches the campsite at least 72 hours before the arrival date.
Guests who interrupt a stay that has already begun will not be reimbursed.
We would like to remind you that you have the possibility to take out the Ergo Travel Insurance, to protect you against all unforeseen events - before, during, and after your stay, until your return home. You can find all the information here.
You can take out Ergo Travel Insurance at the time of booking. If you have already booked and would like to insure your trip, simply email us at info@europasilvella.it
---
BOOKING CONFIRMATION
A deposit of 40% of the total amount of your stay (excluding tourist tax) is required to confirm your booking. The amount must be paid by bank transfer or credit card within a maximum of 7 days. After this deadline, the pitch is considered free.
The booking is only valid after the payment of the deposit and subsequent written confirmation from the booking office.
The reservation guarantees only the type of pitch and the period of stay, not the number of units.
---
CHECK-IN AND CHECK-OUT
Check-in is possible from 14:00 on the day of arrival and Check-out no later than 10:00 on the day of departure.
It is possible to request late check-out, at an extra charge, depending on availability.
---
DIMENSIONS OF THE CAMPING EQUIPMENT
It is compulsory, for each reservation, to inform our Booking Office about the size of your camping equipment, in order to guarantee you the best solution.
The Booking Office declines all responsibility if this information is not provided.
---
BALANCE PAYMENT
The balance of the stay must be paid within the day following the day of arrival, together with the payment of the tourist tax (€ 1,20 per person per night, from 14 years old).
---