FROM CAMPING TO GLAMPING: ALL THE IDEAS FOR A LUXURY HOLIDAY IN NATURE
Published 29 mars 2021
We have already spoken in another article about all the qualities and pleasures of a holiday outdoors: contact with nature, individual space available, facilities of all sizes and equipped with every comfort, areas for sport and fun with new friends...
Today we want you to discover in detail every solution designed for your holiday: from the "wilder" to the most luxurious one, to experience life surrounded by nature without giving up the comfort of a 5-star hotel.
But let's take a step back...have you ever heard about Glamping?
The name is clear: it is a fusion of the words "Glamour" and "Camping", and although the term has only recently been created, it seems that the origins of this type of holiday are quite ancient.
In fact, it is said that the first sumptuous tents were set up in Europe in the 1500s for diplomatic meetings and military expeditions: the richest food, fabrics, carpets and elegant furnishings were brought in to make the tent as rich and magnificent as a palace room.
Teams of handicraftsmen even travelled with the army to take care of every detail of fitting out these tents, enriching them along the way with precious accessories from various countries.
But the form of Glamping that most closely resembles our imagination of open-air elegance are certainly the Safaris that were very much in vogue at the beginning of the 1900s: a real must for the wealthiest travellers from the United States and Europe, driven by the exotic fascination of adventure in nature, who were used to travel in the greatest luxury.
Today Glamping is exactly that: an experience in unspoilt nature, hosted in structures with every comfort, of different types but able to fascinate even the most sophisticated tourists.
But "Glamping" does not only mean luxury and comfort. Let's take a look at some of the characteristics to recognise the best accommodations of this latest holiday trend:
Glamping is first and foremost respect for nature. The structures are in fact designed to be totally integrated with the context in which they are set. The sensitivity towards the environment is very high among those who offer this type of holiday, where eco-sustainability and technological innovation come together to create contexts with a very low environmental impact.
Glamping is all about Simplicity. The rule of camping is: on holiday we need little, if it is well planned. The charm of the accommodation is not only in rich furnishings or elaborate facilities, but above all in the construction of a magical imagery: from the tree house to the American Indian Teepee, safari tents or characteristic igloos, these structures become true boxes of dreams.
You should also please the eye, and in this sense Glamping has something for everyone: the untouched beauty of the contexts in which these solutions are usually set, the attention to detail and fashionable furnishings make these structures aesthetically stunning.
Tent yes, but full of everything! Unlike camping, where families have fun building their own holiday home, glamping offers more or less mobile structures, already installed and perfectly furnished with every form of comfort and need.
No less important is the creativity and ability to amaze that glamping accommodations typically offer their visitors: Wow effect is always guaranteed!
Let us therefore be fascinated and discover some of the solutions proposed by this trend of luxury holidays in the countryside.
Eco lodges
The number one in terms of comfort and easy living, these are mobile or fixed structures similar to bungalows, but with attention to every elegant detail and set in special natural contexts.
Made of sustainable materials according to the latest trends in bio-building, these accommodations are usually equipped with private bathrooms, air conditioning, and furnished in the style of the context in which they are set, and usually offer guests private terraces or verandas where they can enjoy the summer breeze.
Glamour tents
In this category we are proud to present our most Glamorous solutions.
They are based on a "Safari" imagery, large in size and able to amaze even the most demanding travellers.
Consisting of two bedrooms, a spacious and fully equipped kitchen, they are equipped with air conditioning and satellite TV.
The floors in some spaces are wooden, just like in a hotel suite, and, to finish, our Glamour rooms have a private outdoor veranda to enjoy dinners under the stars and wake up with a view over the lake.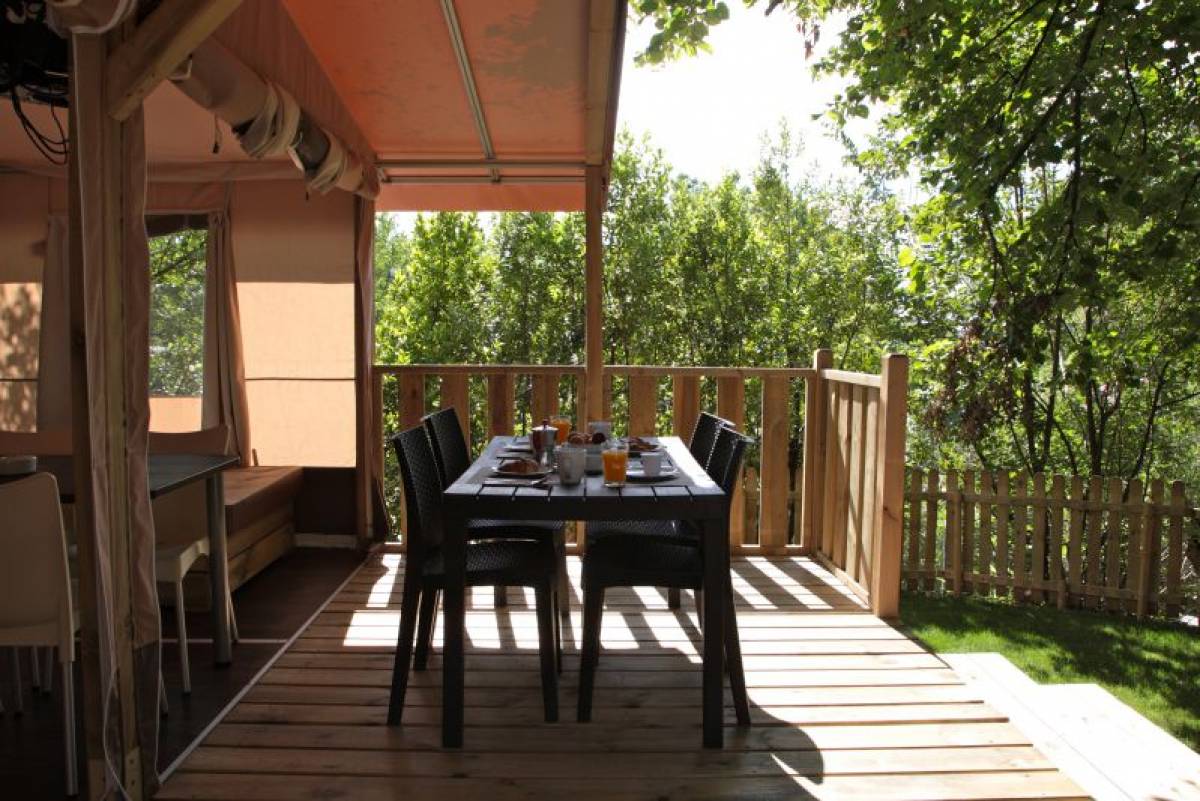 Coco Sweet and Coco Blue tents
For those who are looking for camping tradition, but with a step ahead!
These are authentic tents, designed according to the number of family members, set up and divided into a bedroom, a fully equipped kitchen and a small living room. They are also equipped with floors, air conditioning and satellite TV.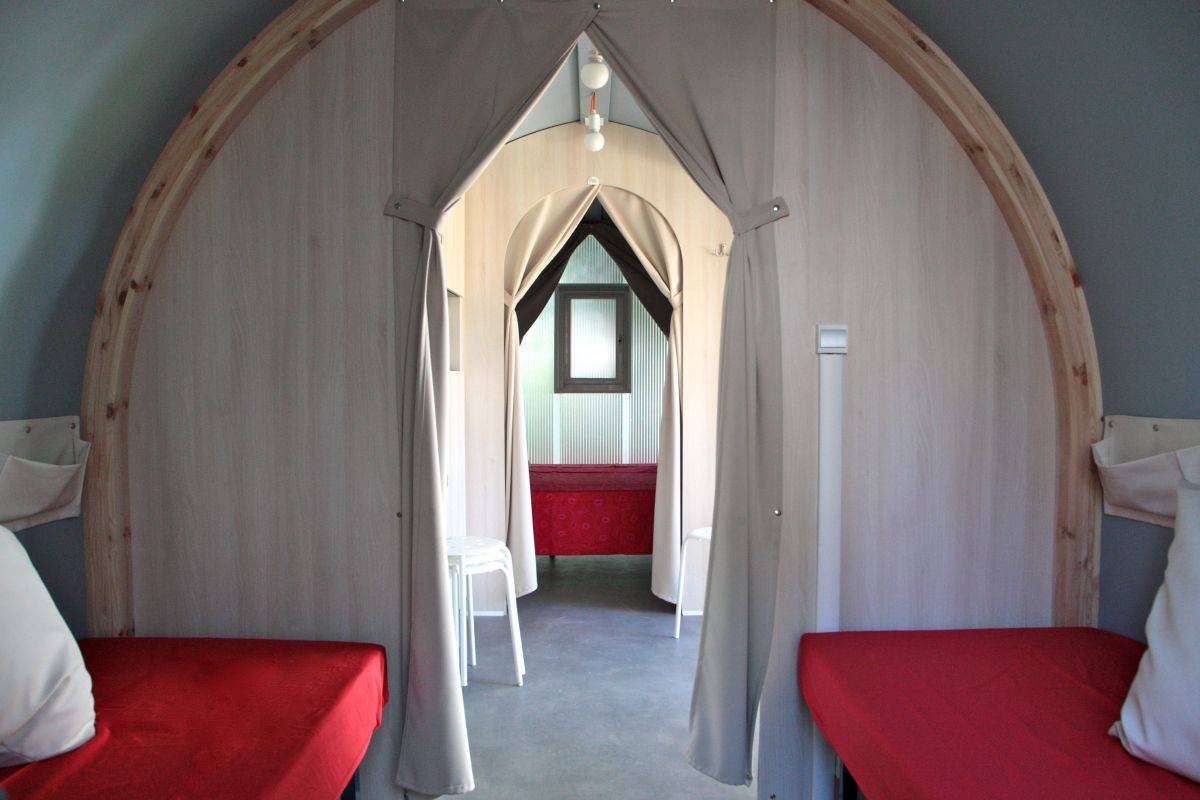 Superior Jacuzzi Mobile Homes
This year's newest addition, which we wanted from the bottom of our hearts to give our guests an extra cuddle for a totally relaxing holiday: modern, spacious, latest-generation mobile homes, consisting of two bedrooms, a living room and a kitchen just like at home: microwave oven, dishwasher, satellite TV and safe... nothing is missing.
But the real "Wow effect" is achieved on the private outdoor veranda: a brand new Jacuzzi whirlpool bath to enjoy the most romantic starry sky of your holiday!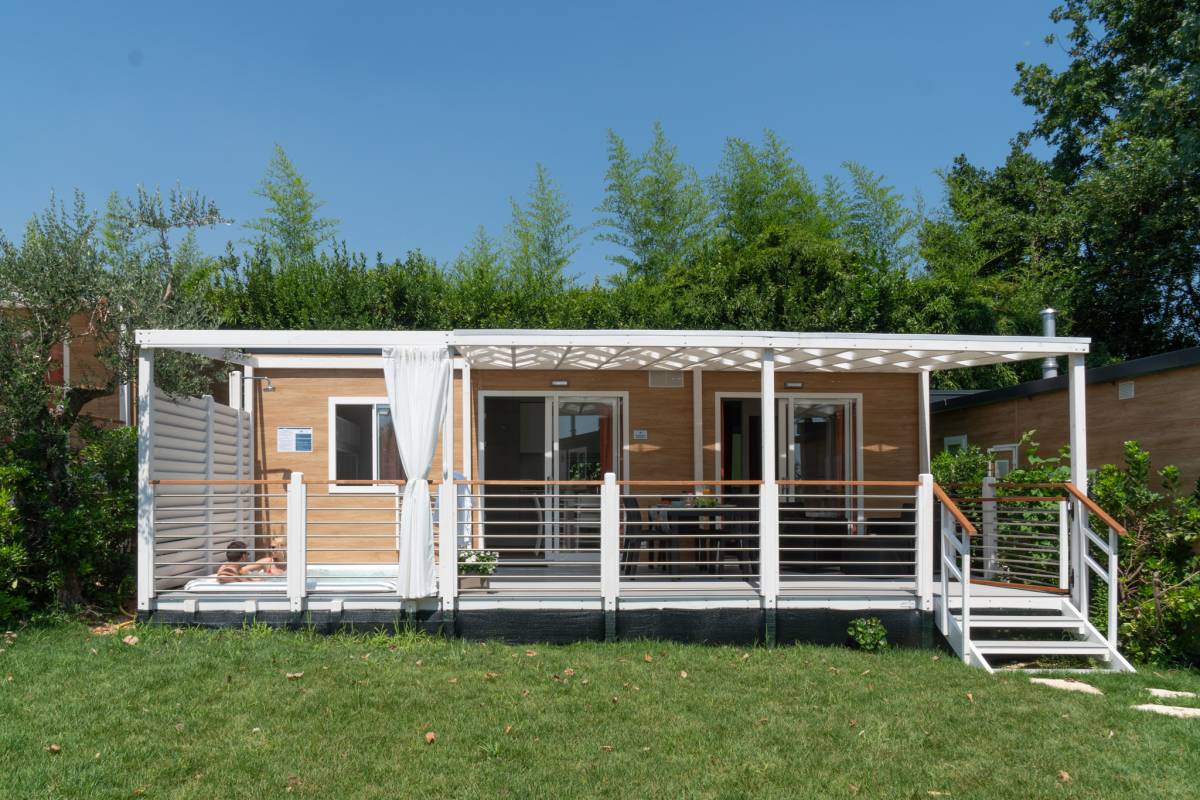 We hope we have impressed you: the campsite now has something for everyone, from the simplest to the best equipped, so that your holiday in nature is an all-round enjoyable experience.
We look forward to seeing you!