Animation 2021: fun from the start to the end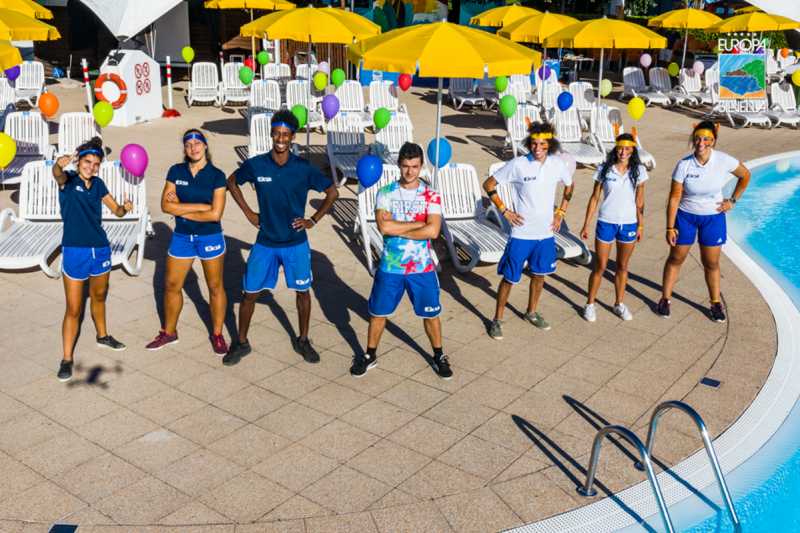 11 février, 2021
At our campsite, we have several passwords, including FUN and SHARING.
We think that holidays are a great opportunity to meet new people, discover different cultures and have fun together as one big family.
It warms our hearts to see children and young people of all ages and nationalities creating friendships, playing together, running hand in hand, dancing, laughing and singing with one voice. It's what makes our Camping Village a second home!
Last year was great for our animation! So many reviews praised our service (which, we must admit, is a boast for us) that we decided to extend it from the start to end: from 20th May to 11th October you can have fun with us, with activities organised by our fantastic international Team!
The Animation Team
Do you remember Greg? Alas, we know: it can only be love at first sight with him and we just can't do without him anymore!!!!
Tireless fitness coach, award-winning director of musicals (rumour has it he'll soon win an Oscar), versatile dancer (macarena, tango, hip hop, mazurka... in short, he can dance anything), fire-eater (which, in the summer heat, is also an act of courage), he'll be leading the international crew that's waiting for you!
Don't know Greg? Then join us: APPROVED BY ALL PAST GUESTS OF EUROPA SILVELLA!
Together with him, sports animators will help us keep fit with sports and fitness, and other young girls will be in charge of the mini club. There will also be music to accompany you during your family holiday!
All the animators will be able to communicate in foreign languages: Italian, German, English and Dutch!
IT IS FORBIDDEN TO BE EXCLUDED HERE!
Have fun with us! You won't regret it!
Children, teenagers, adults: there's something for everyone! And guess what? You're in the right place!
Children are our favourite guests and they will be free to go wild on the music of the baby dance organised by our team and to colour with the animators of the mini club.
What's more, in our swimming pools (click here), which are suitable for everyone, they can enjoy the splash dance.
FUN IS GUARANTEED!
For adults and teenagers there will be football and beach volleyball tournaments where you can show us that you are a top sportsman.
Aquafitness and yoga will keep you in shape and give you a great relaxation during your holiday on Lake Garda.
There will also be moments of entertainment...do you know our Aperitif game? We do not tell you anything: you just have to try it!
And in the evening? SHOW and MUSICAL are waiting for you! You will be able to sing, dance, surprise yourself and dream together with us and your whole family. It's a promise: WE WILL LEAVE YOU SPEECHLESS!