Apartment
Bestående af 2 soveværelser med aircondition, køkken med opvaskemaskine og mikrobølgeovn, stue med TV, badeværelse med bruser, pengeskab, privat grønt område, parkeringsplads.
I højsæsonen (28.05.2023 - 17.09.2023), kan der bookes fra Søndag til søndag.
Hvad er inkluderet
Puder og tæpper
Parkeringsplads
Satellit-tv
Aircondition
Underholdning (hele sæsonen)
Inventar
Hvad er ikke inkluderet
Sengelinned (fås på forespørgsel, see price lists)
Strandstol
Håndklæder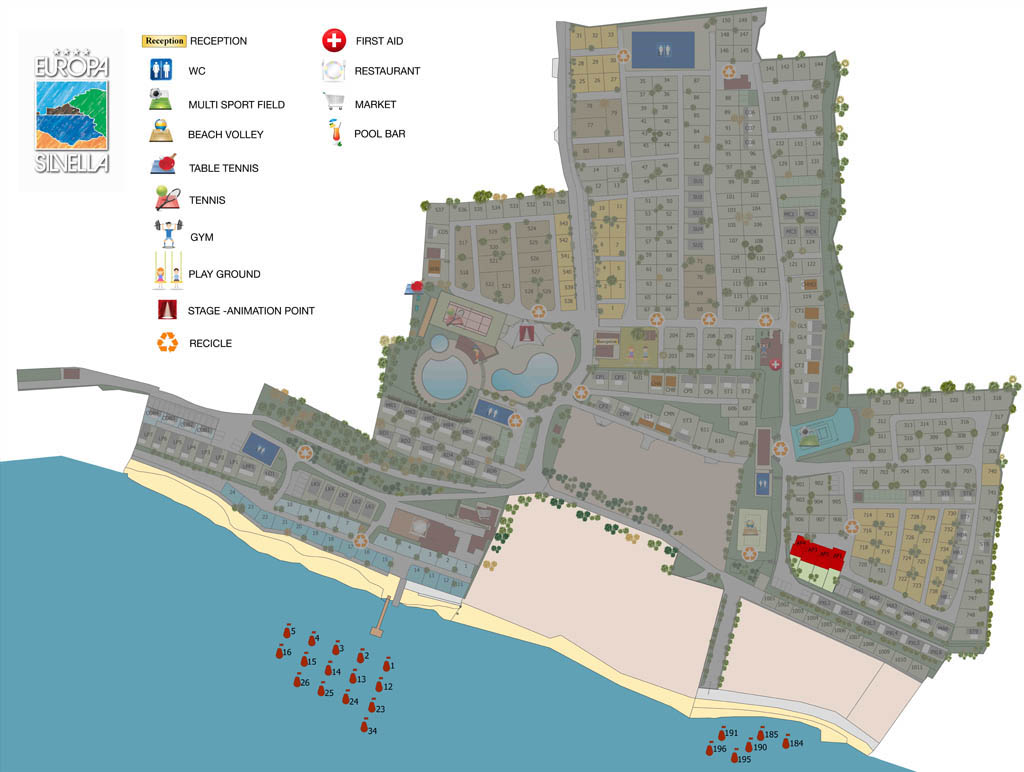 Indkvartering
A
B
C
D
E
F
G
H
14/04-28/05
17/09-10/10
28/05 - 04/06
10/09 - 17/09
04/06 - 25/06
25/06 - 02/07
02/07 - 09/07
20/08 - 27/08
09/07 - 16/07
16/07 - 20/08
27/08 - 10/09
Apartment
Supplement
Extra A
Extra B
Extra C
Extra D
Extra E
Extra F
14/04 - 04/06
10/09 - 10/10
04/06 - 02/07
03/09 - 10/09
02/07 - 09/07
09/07 - 16/07
16/07 - 20/08
20/08 - 03/09
Besøgende (fra 6 år),
Hund (Camping spots)
Bøje
2. bil
Dog (Village)
CANCELLATION POLICIES
In case of cancellation of the stay, the deposit will be returned:
FOR STAYS IN THE PERIOD 23/05/2023 - 17/09/2023:
100% if the written communication reaches the campsite at least 14 days before the arrival date
FOR STAYS IN THE PERIODS 30/03/2023 - 22/05/2023 AND 18/09/2023 - 09/10/2023:
100% if written notification reaches the campsite at least 72 hours before the arrival date.
Guests who interrupt a stay that has already begun will not be reimbursed.
We would like to remind you that you have the possibility to take out the Ergo Travel Insurance, to protect you against all unforeseen events - before, during, and after your stay, until your return home. You can find all the information here.
You can take out Ergo Travel Insurance at the time of booking. If you have already booked and would like to insure your trip, simply email us at info@europasilvella.it
---
BOOKING CONFIRMATION
A deposit of 40% of the total amount of your stay (excluding tourist tax) is required to confirm your booking. The amount must be paid by bank transfer or credit card within a maximum of 7 days. After this deadline, the pitch is considered free.
The booking is only valid after the payment of the deposit and subsequent written confirmation from the booking office.
The reservation guarantees only the type of accommodation and the period of stay, not the number of units.
---
CHECK-IN AND CHECK-OUT
Check-in is possible from 15:00 on the day of arrival and Check-out no later than 09:30 on the day of departure.
It is possible to request late check-out, at an extra charge, depending on availability.
---
EXTRAS
It is possible to request extras such as bed linen, towels, and pool towels at the time of booking, for a fee (see Price List).
---
BALANCE PAYMENT
The balance of the stay must be paid within the day following the day of arrival, together with the payment of the tourist tax (€ 1,20 per person per night, from 14 years old).
---